Hello Friends!
Happy Fall! Two new publications have just been released: Outsider Song and CVS. Check out the full review of pianist Adam Tendler's recent New York City premiere of Outsider Song at 92Y, described as a "small masterpiece" by The New York Times.
This past summer was busy. The fruit of a multi-year collaboration with violinist Miranda Cuckson has yielded an epic composition for solo violin, Secret Machine no. 7. I'm now finishing up two new commissions: trace-escape-horizon, a long-duration work for percussionist Michael Jones, and You are Perfect Just as You are, a natural horn quartet composed for Isaac Shieh. Premieres of these works and two NEW albums will arrive in 2024. Stay tuned!
Long-time collaborator, percussionist, and dear friend Kevin Sims has recorded Fish of The Sea on his new album, Yarrow Canon released by Orb Tapes this past June. I've also recently published Fish of the Sea. The text is written by poet, Abby Minor.
My string orchestra and percussion work, Outside Only Sound, now appears on enfolding, a new album featuring the music of Anne Leilehua Lanzilotti recorded by the String Orchestra of Brooklyn. The album was recently released on New Focus Recordings. The album features Anne Leilehua Lanzilotti's with eyes the color of time. In addition to being a long-time collaborator and friend, Leilehua's piece was a finalist for the 2022 Pulitzer Prize in Music. Outside Only Sound was written with pandemic restrictions in mind and is meant to be performed outside (and in fact was recorded outdoors as well) encompassing environmental noises into the fabric of the piece. Anne Leilehua Lanzilotti's multi-movement work with eyes the color of time covers a wide range of textures for strings, from meditative, undulating chords to tactile overpressure and scratch sounds.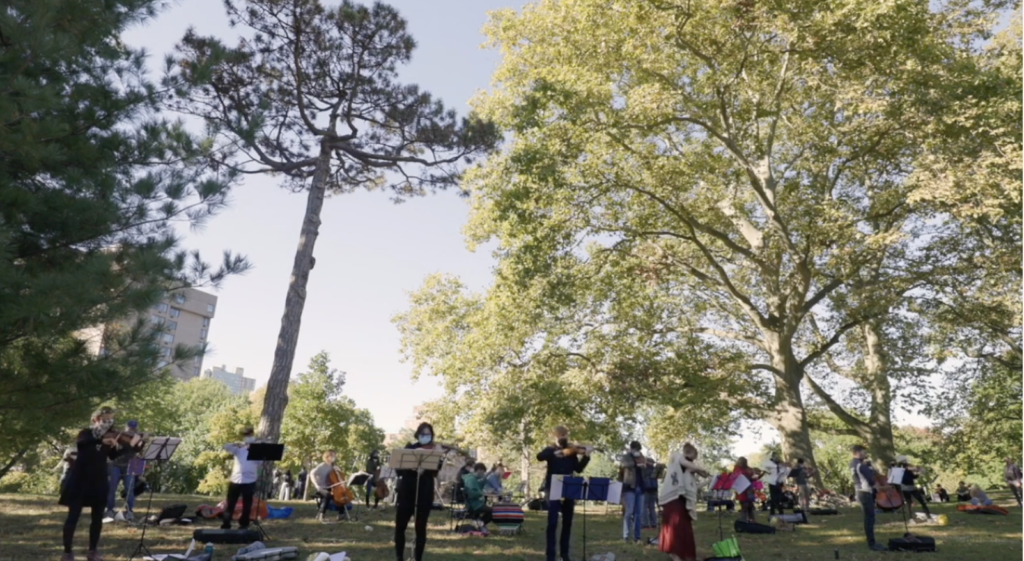 CVS, my concerto grosso for loadbang and string orchestra has been released on New Focus Recordings.
My third album, Dark Days has been released on New Focus Recordings. The album is milestone in my collaboration with pianist and beloved friend, Karl Larson.
Dark Days has generated lots of good press including Best of Bandcamp and a mention from Alex Ross. A recent profile in The Road To Sound documents our collaboration and dives into the ideas behind Dark Days. The album release show took place May 6 at Roulette. It was my first concert with a live audience in over a year! Here's the live-stream from that night.
I've recently published some new works; Outside Only Sound for socially distanced string orchestra and percussion, the title track of the album, Dark Days, and solo piano works, Lyric Fragment and Tiny Oblivion.
Lost Anthems for viola and piano has also been published. The UK premiere was given at The Turner Contemporary as part of Anne Leilehua Lanzilotti's The 20/19 Project. It was presented in the UK by Studio Will Dutta in 2019. The video is beautiful (check it out below). Leilehua has also released a series of technique videos explaining and demonstrating the various extended techniques.