DARK DAYS
RELEASE DATE: APRIL 23, 2021
BANDCAMP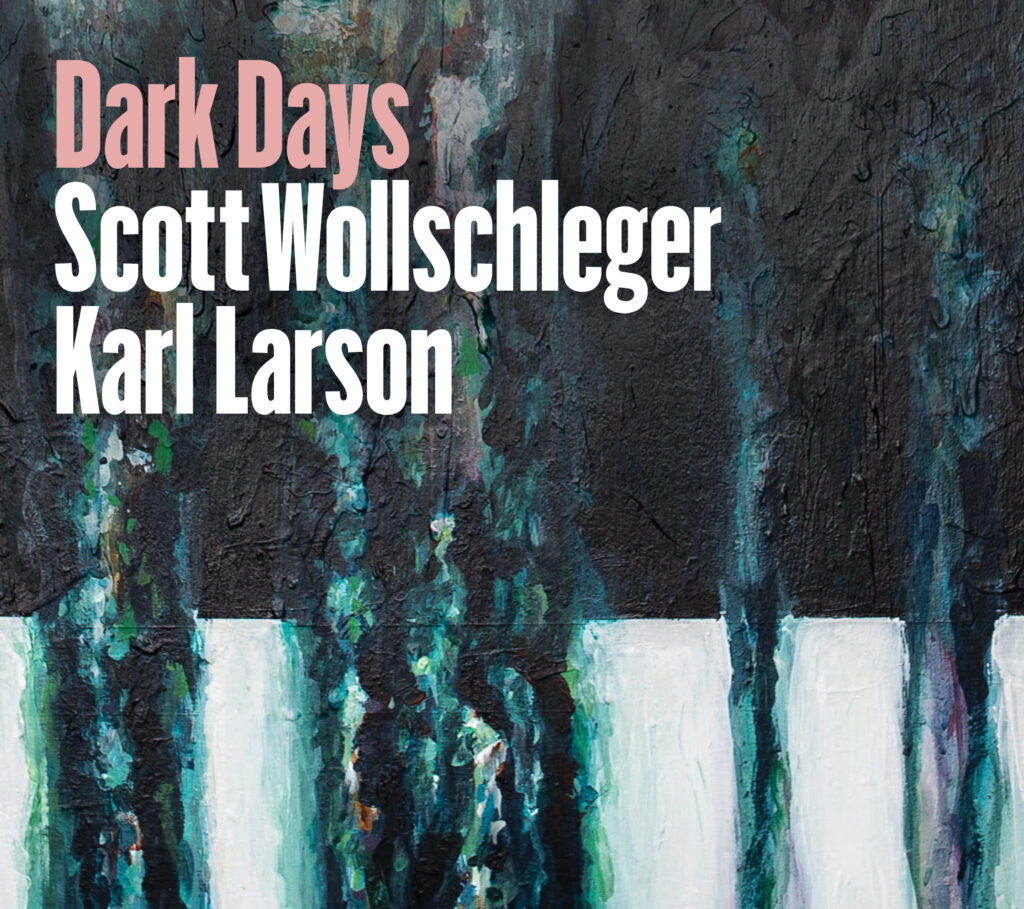 On Friday, April 23, 2021, composer Scott Wollschleger and pianist Karl Larson release Dark Days, an album featuring 10 of Wollschleger's deeply personal works for solo piano, on New Focus Recordings. These introspective pieces, performed here by his close friend and frequent collaborator, give listeners a glimpse into the intimate depths of Wollschleger's working process and the utilization of his rare synesthesia through the tactile use of the piano. Described by Pitchfork as "marvelous" and "powerful," Karl Larson is a specialist in the music of our time and is uniquely suited to perform these works thanks to a deep understanding of Wollschleger's musical language. Composed between 2007-2020, the program order on Dark Days traces the evolution of Wollschleger's compositional style and is intended as an experiential journey. Larson's liner notes delve into the technical specificities of Wollschleger's work as well as the long standing and prolific relationship between composer and performer. Larson will perform the Dark Days program in a live streamed concert at Brooklyn's Roulette on Thursday, May 6, 2021 at 8:00pm ET.
Recording engineer: Ryan Streber
Editing, mixing, and mastering: Ryan Streber and Scott Wollschleger
Editing assistant: Charles Mueller
Piano technician: Dan Jessie (Hamburg Steinway D)
Produced by Scott Wollschleger and Karl Larson
Executive Producer: Scott Wollschleger
Painting on cover: River of Silence by Theresa Musatto, used with permission from the artist
Album design by Traci Larson
Liner notes by Karl Larson
Photo of Karl Larson and Scott Wollschleger by Greg Manis, used with permission
Art photography by Jennifer Dworek, used with permission
AMERICAN DREAM
RELEASE DATE: FEBRUARY 8, 2019
BANDCAMP
On Friday, February 8, 2019, Bearthoven (Karl Larson, piano; Pat Swoboda, double bass; and Matt Evans, percussion) releases its second album American Dream on Cantaloupe Music. The album includes the works Gas Station Canon Song, American Dream, and We See Things That Are Not There.
Reviews
"…incredibly beautiful, fascinating music…A stunning work that creeps up on the listener over time and doesn't let go"– Best of Bandcamp Contemporary Classical: February 2019
"…toggles between Morton Feldman-esque contemplation and pointedly fractured, multi-planar collisions to indicate both the hope and deep disappointments of contemporary America."– Bandcamp Daily.
"On the recently-released American Dream (Cantaloupe Music), featuring the works of composer Scott Wollschleger, Bearthoven flawlessly craft a slow-building universe of shadowy piano jolts and caresses, plucked and scraping strings, and percussive clatter." – Brooklyn Rail
"Pennsylvania-born, Brooklyn-resident Scott Wollschleger is one of the more interesting of the post-Feldman generation. A composer who takes his cues from what he perceives as the current American dystopia, his distinctive language is as much about the spaces between the notes as it is about the music we hear, yet he has a refreshingly recognisable 'sound' that revels in intriguing sonic combinations and repetitive rhythms, without ever straying into anything as obvious as minimalism (or any 'ism' for that matter)…Wollschleger's sound world is diverse and original, his conjured imagery compelling, if frequently enigmatic. Capable of considerable energy, he's also unafraid of silence, his sense of pacing surefooted and engaging, especially here in Bearthoven's committed and imaginative performances. This is late night music, best appreciated when the mind is free to wander where Wollschleger leads. It is also music that reveals itself further the more time you put into it. Make the effort though and you'll be richly rewarded."– Limelight Magazine
"His intriguing and evolving compositional style draws the listener in. This is highly evocative music which, if you listen patiently, will gently surprise you." – New Music Buff
Described as "evocative" and "kaleidoscopic" (The New York Times), composer Scott Wollschleger's music is at times deconstructive, disembodied, and dystopic, anchored by his penchant for arresting instrumental colors. This remarkable recording features performances by soprano Corrine Byrne, trumpeter Andy Kozar, violist Anne Lanzilotti, cellist John Popham, pianist Karl Larson, Mivos Quartet, and Longleash trio.
Reviews
"Distinctive and magnetic…On the atlas of new music, Wollschleger lands somewhere in the borderland between Minimalia and Feldmanistan: obsessive repetitions of stripped-down materials bring to mind minimalism, while spells of hushed, cryptic beauty recall the great American modernist Morton Feldman. Yet Wollschleger has found a territory very much his own…It's like a junk-metal mobile that achieves free-floating grace." – The New Yorker (Alex Ross)
"Composer Scott Wollschleger's new album, Soft Aberration, is, on its surface, about as fresh and singular a new-music album as I've heard this year: on the one hand, Wollschleger draws on a spate of extended techniques and gestures that all sound thoroughly of the present. At the same time, there's something elemental and profound at work, too, in this collection of five chamber pieces, and that intangible quality lends these pieces (and this disc) its expressive weight…There's much to admire here, technically, from John Popham's flickering intensity in America to the subtle shades of light and shadow Mivos teases out of White Wallto the sumptuous warmth pianist Karl Larson and violist Anne Lanzilotti bring to Soft Aberration….But it's those touchingly expressive moments that leave the biggest impact – in Brontal Symmetry and Bring Something, especially. Those elevate this album and cement Wollschleger's place as one of the Millennial generation's most striking voices." – The Arts Fuse (Jonathan Blumhofer)
"This is an album that feels like a single, expansive work, and yet it is a work in which each part also comes across as a whole, like exploring the reflection of the surrounding room in the complex surface of a cut and polished gemstone; each surface reveals a new perspective that cannot be experienced within the room itself, but only through its reflection … In Wollschleger's work it seems the listener is fully integrated into the creative process. There is no illusion, no curtain to pull aside or opaque, structural tropes to decode that are propped up by dense and overly articulated program notes. Nonetheless, the potential for ever increasing meaning feels limitless. Wollschleger's stark honesty is approachable but deceptively simple and possessed of many, immeasurable (and some undetectable) dimensions. Rather than falling from above and condescending from some pedestal of intellectual vanity, these magical works rise holistically out of a more primal space and carry the listener with them as their petals unfurl and their flowers bloom over the dark, reflective pool of Wollschleger's deeply profound imagination." – I Care if You Listen (Christian Kriegeskotte)
"Nu classical music that is left leaning while not being pots and pans music…Echoing crime jazz with 80s EDM with sinister sounding stuff and more, you can easily hear stuff here turning up in the soundtrack of a indie, urban crime/action pic for chase scenes. Nu stuff for nu ears, the masters of the past are going to have to make room for this nu cat elbowing his way in. Check it out." – Midwest Record
"It's rare that you hear such command of structure and orchestration in any idiom… Brontal Symmetry has wit, melody, and plenty of spice, doled out in digestible bits… Far from an aberration, this album is the sound of someone firmly planting their flag at a thrilling elevation. More, please." – An Earful
"White Wall is a piece of extraordinary sonic delicacy that serves as the understated focus of the album. The album's other compositions…give more evidence of a composer who can extract the expressive maximum from minimal musical means." – Avant Music News
Reviews
"Wollschleger's What is the Word takes as its basis the final text of Samuel Beckett, and though the Irish playwright's oeuvre is more complex than a simple text-setting can hope to accommodate, Wollschleger's approach is not quite this: part recitation, part instrumental abstraction, the composer harnesses a deliberately-limited catalogue of sonic materials to convey an altogether personal response to the Beckett source in a triptych of quietly obsessed miniatures." – I Care if You Listen (Andrew Stock)
Barbary Coast, the debut album from New York-based ensemble Red Light New Music, features works by the group's founding composers: Christopher Cerrone, Ted Hearne, Vincent Raikhel, Liam Robinson, and Scott Wollschleger. These works represent ten years of collaboration between the composers and performers, and showcase the collective's imaginative approach to contemporary chamber music.
Reviews
"Scott Wollschleger, "Brontal No. 3." Four similar movements, a kind of brutal pocket viola concerto. For me the highlight of the disc. Wow. This is some serious madness. Alternating microtonal monumental sonorities conjure Lovecraftian visions. The outraged viola "sings" stunted melancholy." – Do the Math (Ethan Iverson)
THE TRANSCENDENTALIST is Serbian American pianist, Ivan Ilić's first album for Heresy Records. Featuring works by Alexander Scriabin, John Cage, Morton Feldman and the young American composer Scott Wollschleger, the pieces on the album demonstrate the influence Scriabin's music had on American avant-garde piano music. The album also reveals the connections between these composers and Transcendentalism, America's first important philosophical movement.